Gary devoted much of his career serving fellow cattlemen on Association Boards. Here in Michigan he served as President of the Southwest Michigan Polled Hereford Association, the Michigan Polled Hereford Association, and the Michigan Cattlemen's Association. He was Chairman of the Michigan Beef Industry Association for many years. He also served as advisor on the State Council for MSU Ag Bio Science and Extension and on the MSU Lake City Advisory Council.
Gary served as an officer in the National Cattlemen's Beef Association for seven years, culminating in a year as President in 2009-2010. It was indeed an honor to lead NCBA's 30,000 members during political and economically challenging years.
In that time, Gary boarded over 200 airplanes, spent 185 days away from home and visited many state and major county cattlemen's associations. Many days were spent in Denver and Washington D.C. While a lot of tough decisions had to be made, the offset was the meeting of many wonderful cattle people all over this great country. Shirley accompanied on the "hard" visits, like to Hawaii, Florida, Montana, and California.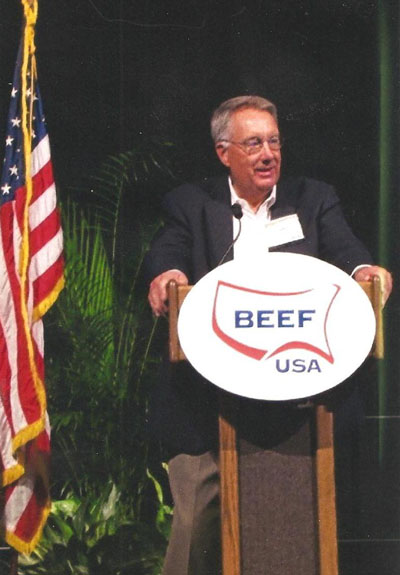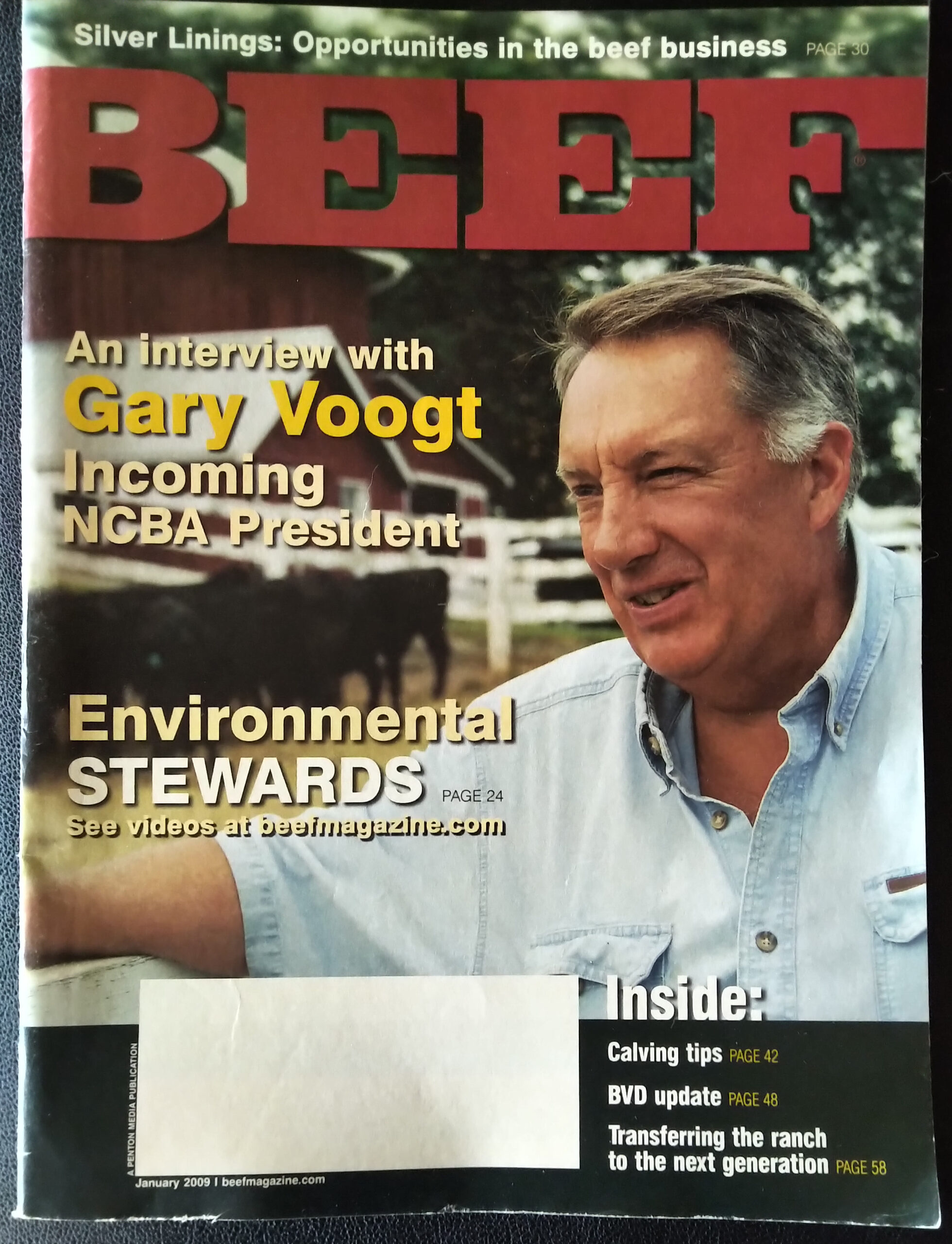 We met President George W. Bush, Gary testified in Congress and did countless TV and radio interviews, all to promote beef and the cattle business and lifestyle.
To hear how Gary handled Governor Jennifer Granholm's Meat-Out Day, click here for an interview on WJR.
We ate good – from swamp cabbage and alligator in Florida, to sheep in Utah, to crawfish and gumbo in Louisiana, and carne asada in Mexico. Great food everywhere.
Membership in NCBA and the Michigan Cattlemen's Association is crucial to preserving our way of life. Ask Gary how to join now.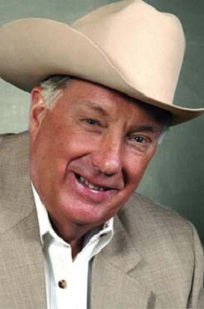 2014 MSU Block & Bridle Honoree
Mr. Gary Voogt and his wife Shirley own and operate a registered Angus family farm in West Michigan. Their farm is MAEAP Verified and Beef Quality Assurance certified. It was home to their five children and now a great place for their grandchildren to visit. Mr. Voogt is a graduate of Michigan Technological University in Houghton Michigan with a B.S degree in Civil Engineering. He is a registered Professional Engineer. In July 2007, he retired from a rewarding 41-year career as a municipal engineering consultant, major stockholder, president and CEO of a Grand Rapids-based company. Mr. Voogt is a past president of the Michigan Cattlemen's Association where he has been a member for almost 40 years, and past chairman of the Michigan Beef Industry Commission and a director for 18 years. He received a Distinguished Service Award from Michigan State University, and he with his family were named Member of the Year and Purebred Breeder of the Year by the Michigan Cattlemen's Association. Mr. Voogt has represented Michigan as a director of the National Cattlemen's Beef Association (NCBA). He was privileged to serve as the NCBA President in 2009, an experience that included travel to many states, testimony in Congress, and trips to Mexico and Canada as guests of those country's cattle associations. He was elected Region I Vice President of NCBA in 2003 and served on the Executive Committee, the evaluation Committee, the Beef Checkoff Working Group, Vice Chairman Beef Promotion Operating Committee, Vice Chairman of Global Marketing Group, and Director of the U.S. Meat Export Federation. He shares that hundreds of friendships were formed during these experiences. Mr. Voogt believes it important to serve his church and his community. He served as deacon, elder and president of his Church council, on the Christian School Board, and six years as Township Treasurer. Mr. Voogt has maintained a strong association with MSU, serving on the State Council for MSU AgBioResearch and Extension, and on the Advisory Council for the Lake City Experiment Station. He has provided guest lectures in the MSU feedlot management class.