Thank you for visiting our website. We are serious about raising superior registered Angus seed stock, preserving and enhancing the environment, and maintaining a family farm.
We are a family owned and operated beef cattle farm that was established in 1967. We are located in the apple producing ridge area of eastern Ottawa County, and just 12 miles west of Grand Rapids, Michigan. The farm is 170 acres made up mostly of hay ground and pasture, together with some wildlife set aside areas and a small pond and a log cabin.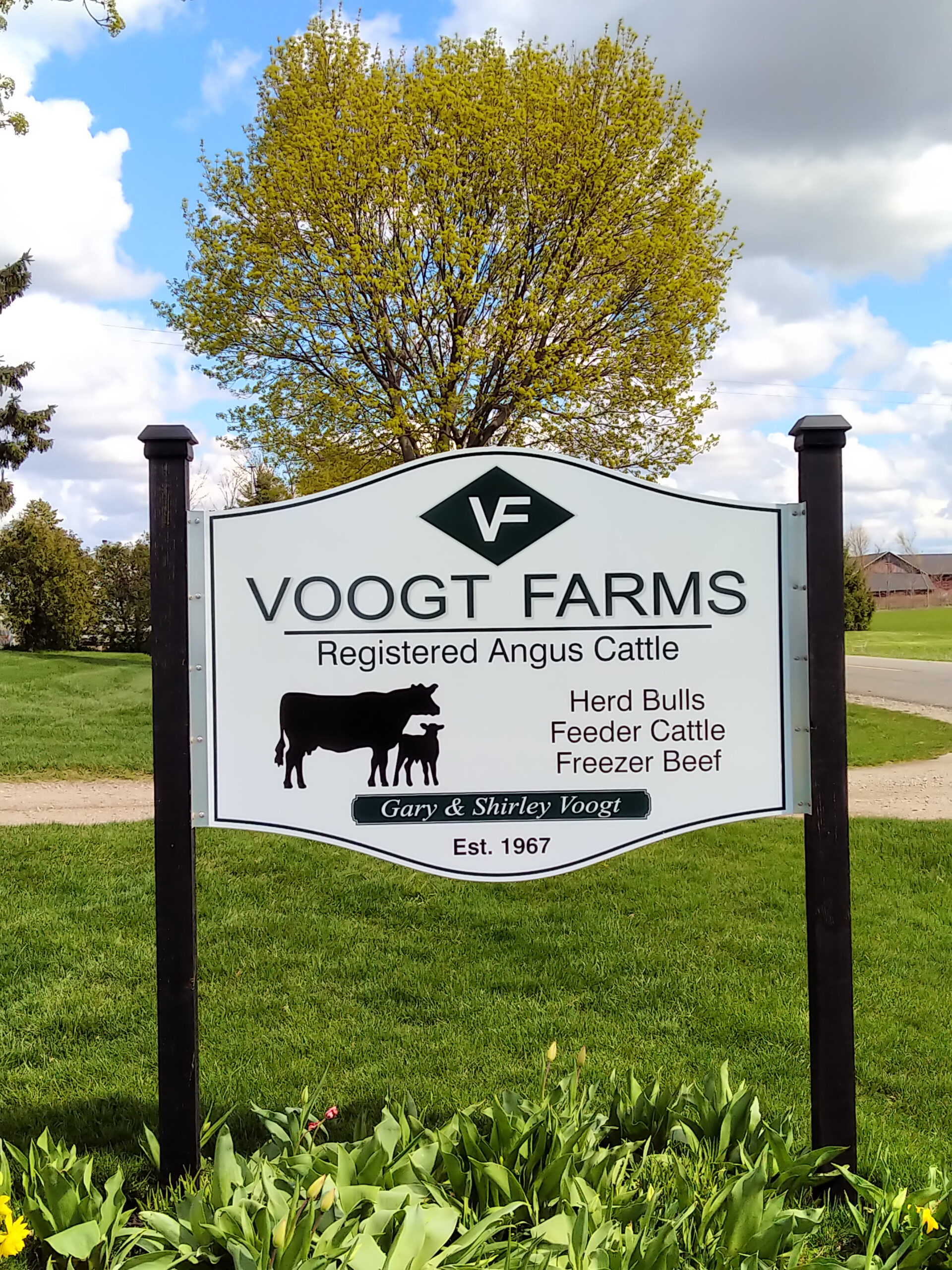 The farm is operated by Gary and Shirley Voogt, who along with their daughter Michele, live at the farm headquarters. A second home on the farm is home to son Zachary and his wife Wendy and their family. The newest home on the farm belongs to daughter Kelly and husband Marc Jacobsen, and their sons Neal and Benjamin. All of us are included in the operation.
Voogt Farms is home to 60 mother cows plus the calves and yearling bulls and heifers, together with a small herd of registered Savanna Goats. In 2020, the American Angus Association again recognized Voogt Farms as one of the top 10 farms in Michigan.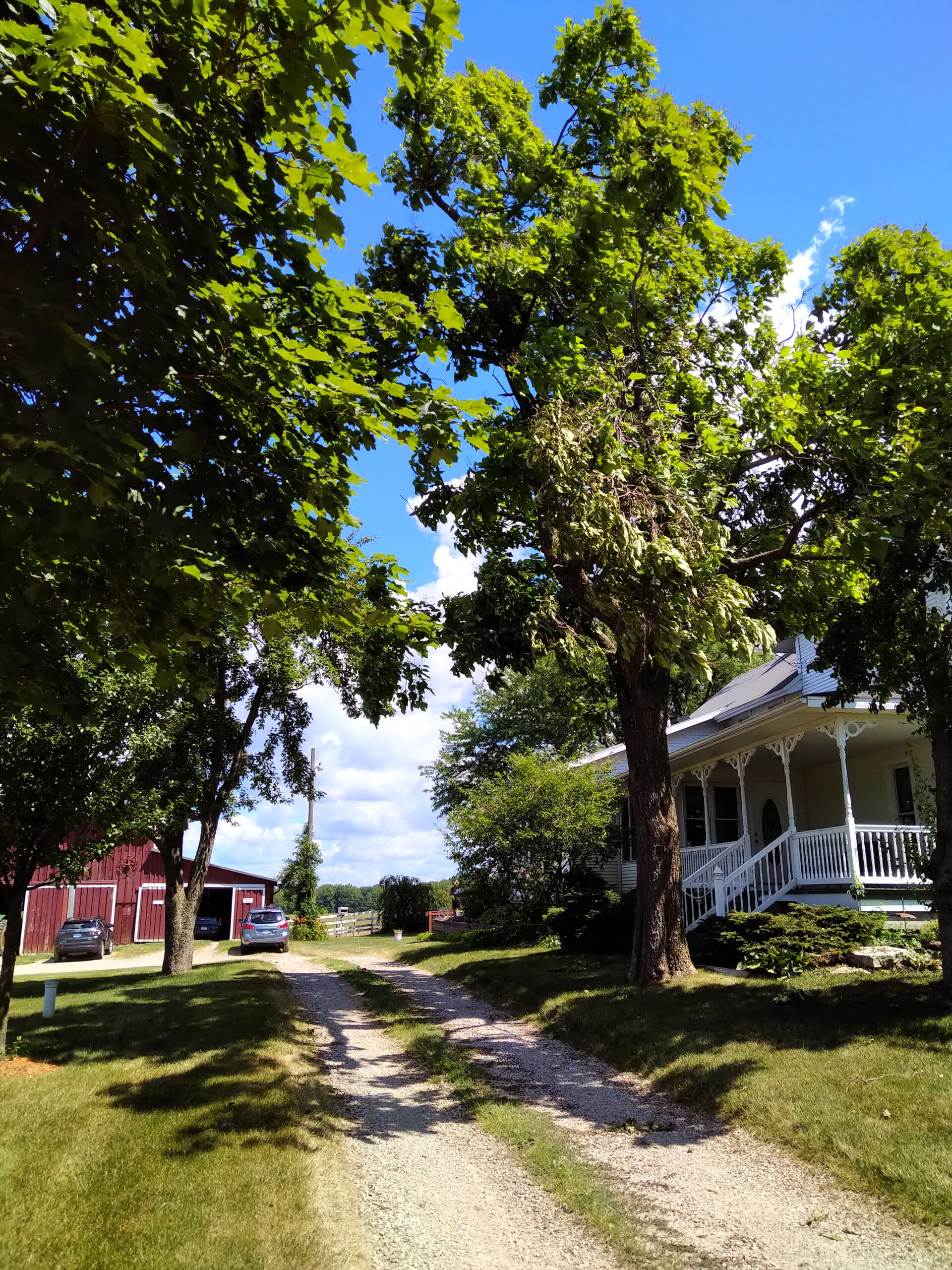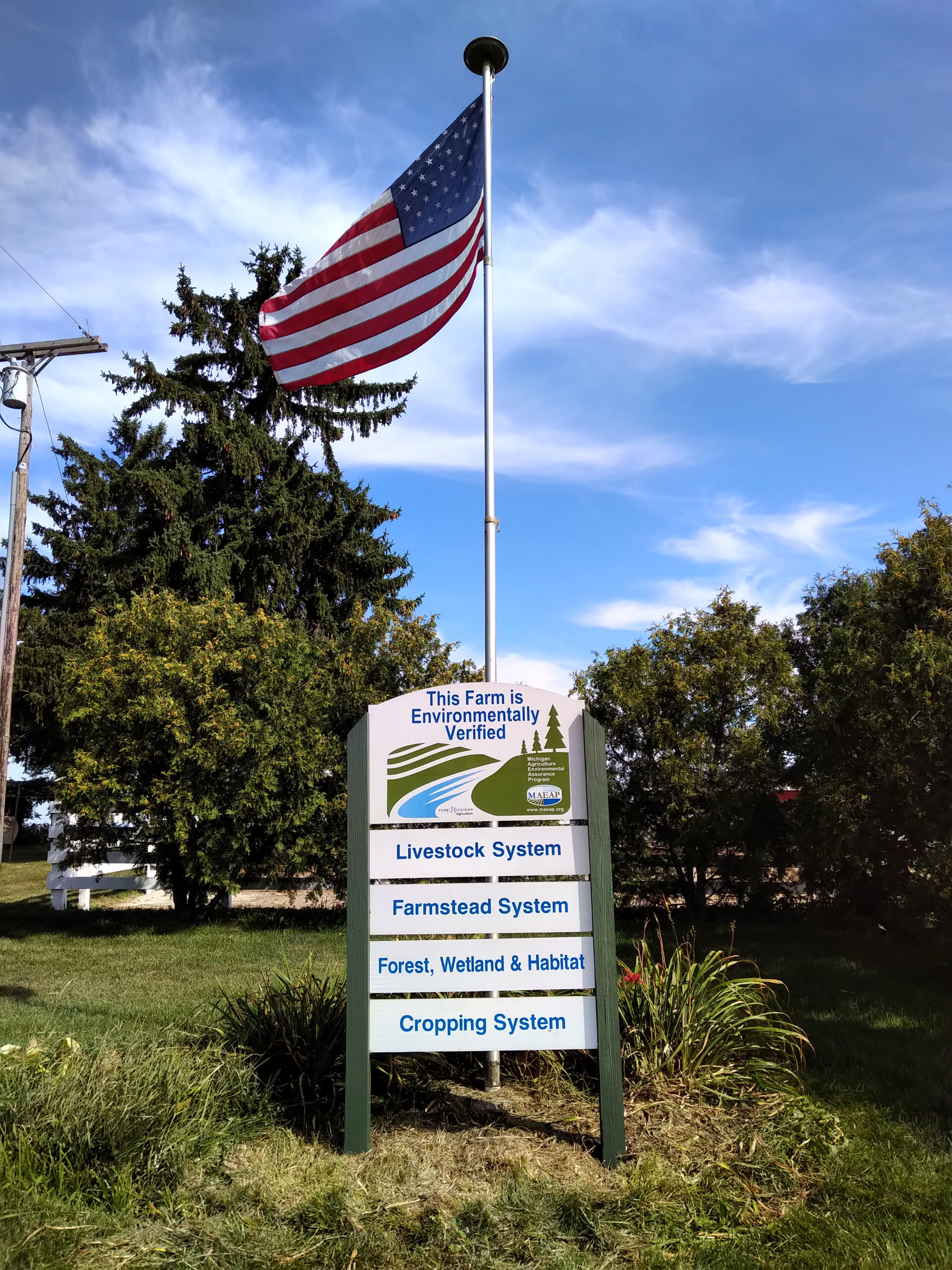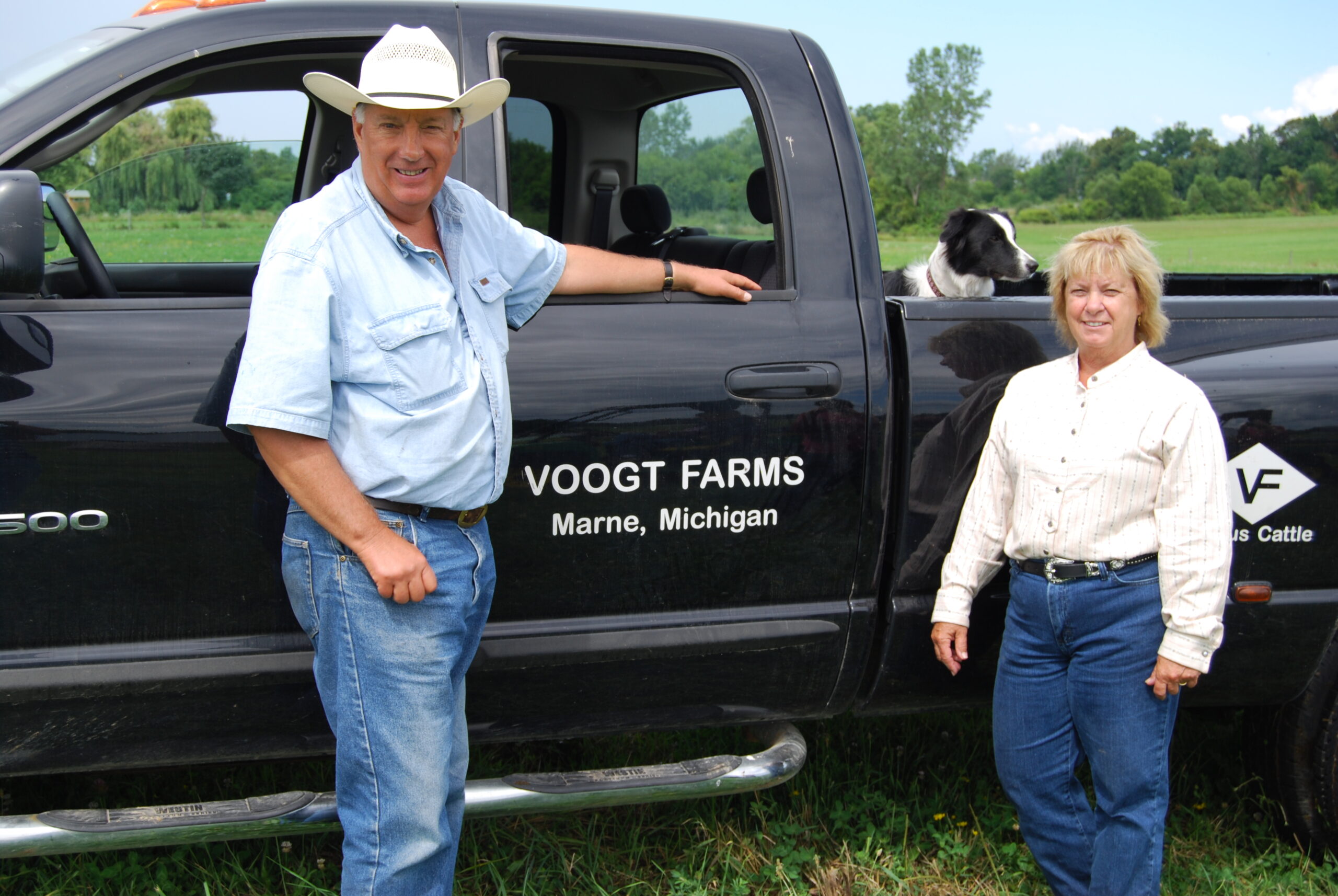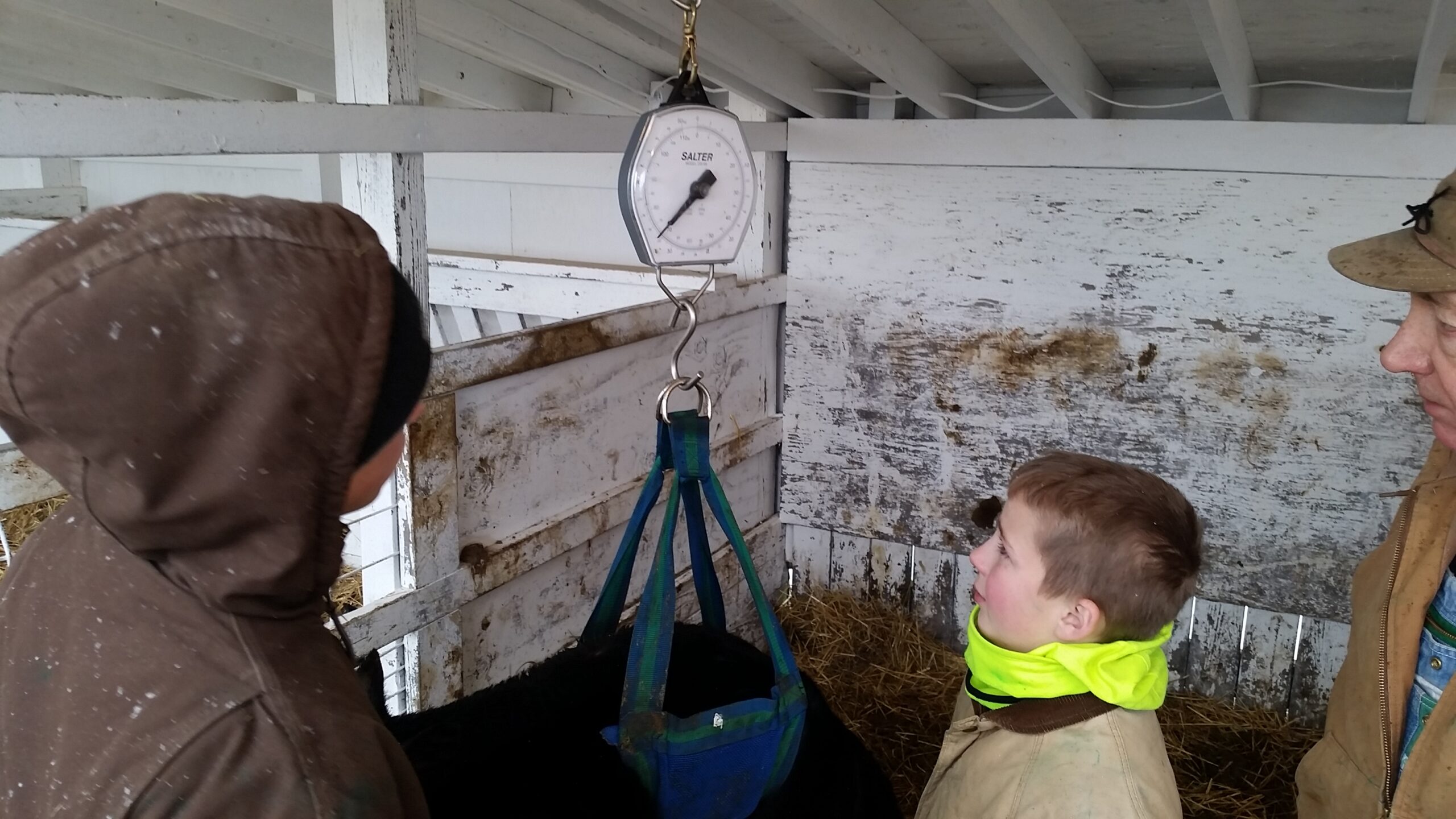 The pastures are all fenced with high tensile and are rotationally grazed and watered in 11 paddocks. All hay for winter feeding is produced on the farm. The facilities include the original hand hewn timber barn which now is used for heifer development, square bale storage, the goat herd, and various 4H animals. Machinery is stored in a 54' x 80' barn and workshop. There are two calving buildings with 8 pens, and a bull and steer facility which includes a working chute, electronic scale weighing and rate of gain recording system. A log cabin build by Gary and Zach overlooks a pond in the wildlife preservation area.
Protecting the environment and promoting the well-being and health of our livestock is very important to us. Our farm is certified in the Michigan Agricultural Environmental Assurance Program (MAEAP) for Livestock, Cropping, and Farmstead systems, plus we now are certified in Forest, Wetland and Habitat. Family members are certified in the Beef Quality Assurance Program. Since 2020, Voogt Farms has been under a five year contract with the USDA Conservation Stewardship Program, and is committed to enhancing various environmental features of the farm every year.
Voogt Farms was recognized as the Michigan Cattlemen's Association 2006 Purebred Breeder of the year. Our farm has also been recognized by the American Angus Association as home for many Pathfinder Dams.
In 2017, we were honored to be chosen for the Conservation Partner of the Year Award from the Saving Birds thru Habitat organization, and our farm has been recognized as Certified Bird Habitat.
Watch the NCBA Introduction Video